Description
---
Description
Our premium line of vibration dampers – Sky line. There are two key factors making this a completely unique line of materials in the market:
Modified latest composite butyl polymer – not only is it lighter and has a higher mechanical loss coefficient but is also stiffer, helping suppress low frequency resoncances.
Tempered aluminium foil has undergone multiple heat treatments, making it firmer, further increasing its mechanical loss coefficient as well as increasing its durability. We believe you will be pleasantly surprised by the unparalleled effectiveness.
Additionally – Armor uses Double Technology which is based on our research results: having double layers of mastic and aluminium foil with a total thickness of 4.0 mm provides significantly better mechanical loss coefficient than an increase in thickness of a single layer of mastic would while retaining same weight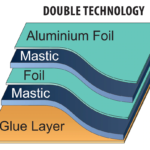 ---
Packaging
1 box of Armor Extreme 3.5 mm (double) = 18 sheets 50×27.5 cm each = 2.5 m²
---
Application areas
Boot lid, wheel arches, firewall and floor
---
Composition
A three-layered material:
Self adhesive glue layer for installation, protected with anti-adhesive paper
Our space age formula composite butyl polymer
Tempered aluminium foil
Our space age formula composite butyl polymer
Tempered aluminium foil
---
Technical Specifications